The Future of Fashion Is In Hemp
If you didn't catch our newsletter this month and you're not already in the know it is Hemp History Month. In honor of Hemp History Month Anna and I are gearing a few our our posts to educating about hemp history. This is our second post in the series and we are covering Hemp History within the Textile and Fashion Industry.
If you missed Anna's first post in the series with some great, fast facts about the history of industrial hemp in our country Check it here………..
The Past
You wouldn't know by the lack of hemp used in the textile industry, but Hemp was at one time the preferred fiber used for clothing and various other textile applications. Starting with the Chinese as early as 150 B.C. the hemp plant is believed to be the first plant cultivated as a textile fiber. The crop reigned supreme through the Middle Ages when it provided huge economic and social value by accommodating the food and fiber demand throughout the world. Hemp served most cultures throughout the world as a leading textile up until the end of the 18th century.
The bad ass things the hemp textiles have been used for…..
The oldest piece of hemp cloth found found dates back to 8,000 B.C and found in the region of ancient Mesopotamia.
The sails and ropes used on most ships carrying European explorers all over the the world were made from hemp.
Betsy Ross made the first flag using hemp and the Declaration of Independence was drafted onto hemp paper.
The paintings of all there greats came to life onto of Hemp Canvas! Rembrandt, Van Gogh, and Gainsborough.
Industrial Hemp was critical to our success during WWII. The majority of U.S. military uniforms, canvas, and rope was made from the fiber. The U.S. lifted the ban on Industrial Hemp during the war and launched the Hemp For Victory Campaign.
The first pair of Levi's were made from Hemp.
So Hemp was a major major textile player throughout the world so what the hell happened?
Well the fiber's fall from the top began with the growth of the cotton industry. At the end of the 18th century the invention of the mechanical cotton gin made it far easier to harvest and produce cotton fibers. The very suspect part of it all was that by 1917 an American by the name of George W. Schlichten invented and patented a machine that would allow hemp to to rival the cost and yield of cotton. Mysteriously George Schlichten and his machine vanished.
The nail in the coffin for industrial hemp was the propaganda put out by large companies with a vested interest in petroleum based synthetic fibers. At this point many machines existed making hemp production more affordable and big business viewed hemp production as a major threat to their profit margin. By 1983 both the United States and Canada, under the influence of lobbyist from synthetic textile companies (DuPont being one of the biggest players), banned the production of industrial hemp under the Opium and Narcotics Act. ASSHOLES!!!!!!
Our Future Lies In Hemp
There is a reason why industrial hemp was so prominent throughout history and that is because the fiber is BADASS! So let me count for you the ways this fiber kicks ass.
Hemp actually absorbs CO2 making it a carbon negative crop from the start

Hemp can pretty much be used for anything cotton can and the plants require half as much water and land to yield the same quantity of fiber.

Hemp is literally a weed and so it grows easily and successfully without the use of harmful pesticides and fertilizers.

Hemp is versatile and has a drape similar and hand feel similar to linen. The fiber can easily be blended with other fibers to achieve a wider variety textile properties.

The hemp plant doesn't strip the soil of nutrients. The plant actually returns 60 to 70% of all nutrients back to the soil.

Hemp fiber is one of the strongest and most durable of all natural textile fibers. Clothing made from hemp will outlast clothing made from more conventional fibers by many years.

Hemp fiber is strong and will hold its shape, stretching less than other natural fiber. This keeps the garment from stretching out or distorting with use.

Hemp gets softer with use and wears in, rather than out, beautifully. It is also naturally resistant to mold and ultraviolet light.

Hemp is porous and absorbs well therefore when dyed it retains its vibrant color.

The porous nature of hemp allows the fabric to breathe making it cool in warm weather. The same principal applies to cooler weather. Air trapped in the fibers is naturally warmed by the body keeping you warm in the garment.
Fight For A Change
Currently industrial hemp is legal to grow in more than 30 countries. The United States is one of the few industrialized nations that does not currently allow the cultivation of hemp. Millions of dollars worth of hemp is imported into the United States each year in order to fulfill the growing demand for hemp products. When it comes to cannabis, laws vary from state to state and continue to change as new legislation is passed. Currently there are thirteen states with statutes establishing commercial industrial hemp programs.......
CA, CO, IN, KY, MA, MO, ND, OR, SC, TN, VT, VA, NC and WV.
Seven other states have also passed laws establishing industrial hemp programs, they are limited to agricultural or academic research purposes only.
Industrial hemp growing has been banned for over 80 years and there are many obstacles to cross in order for the crop to be legalized. We want to see more of this fiber used in the fashion cycle designers and clothing companies need more reliable sources of domestically grown hemp. Visit VoteHemp.Org to see how you can get involved!
Changing The Face Of Hemp Clothing
We've seen hemp around before — as rugs, bags, even as shoes. But it's not too often that you come across stylish hemp duds. Don't let hemp's granola-y, pass-it-to-the-left reputation fool you. Discover the brands and designers who are changing the crunchy image of hemp fashion.
All of Groceries Apparel's products are manufactured in their own California-based factory, which employs seventy talented sewers, cutters, designers, and marketers. The company uses 100% organic and recycled textiles including: Organic Cotton, Eucalyptus, Hemp, Recycled Cotton, and Recycled Plastic. They use farm-direct sourcing to ensure that family farms receive the support they need to grow the ingredients without the use of toxic chemicals or GMO-seeds. They have purchased over two million yards of these environmentally and community supportive fabrics since the company started in 2010.
Designer Mattie Morton creates find beautiful botanical garments handmade and hand dyed with natural plant dyes. Based out of Montana you can purchase Mattie's designs through her Etsy Store.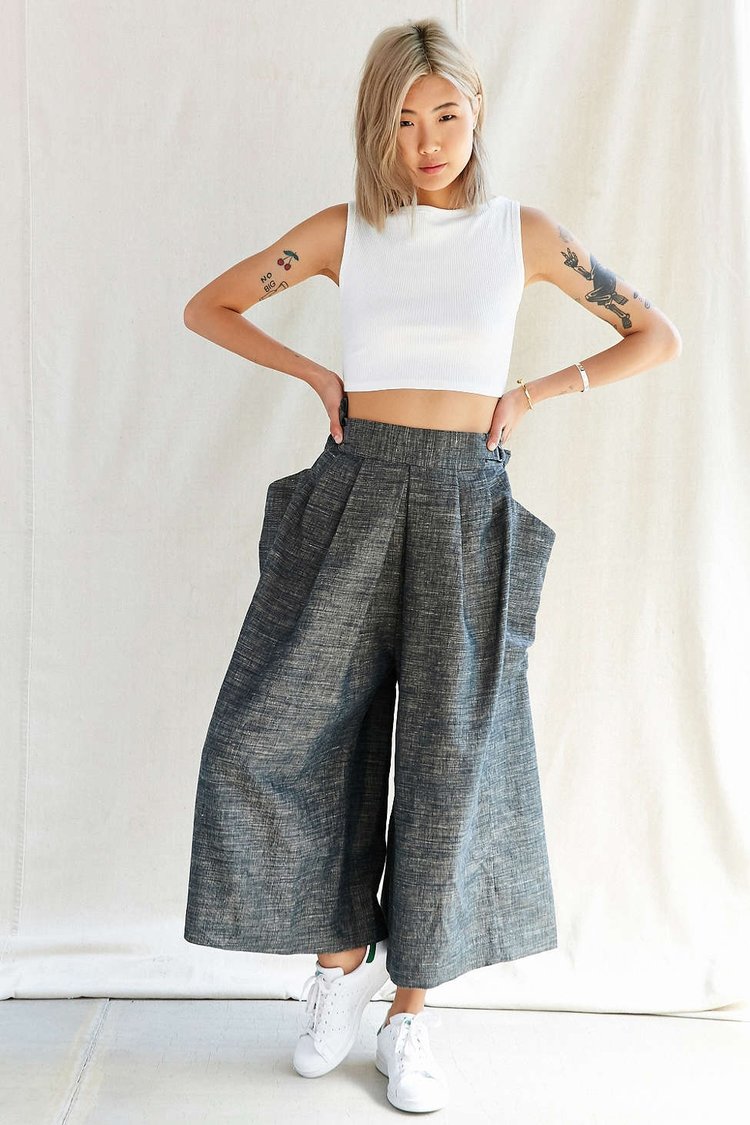 Study New York is an ethical contemporary womenswear label based in Brooklyn, NY. They use a variety of ethically sourced fabrics including organic cotton, alpaca, and hemp. Known for seasonless updated classics that are sourced locally and ethically.
Out of a passion for the renewable, high yielding and Eco-friendly Hemp textiles, Jungmaven's founder Robert Jungmann wants everybody to own at least one hemp shirt by 2020 Jungmann has been working with hemp since 1993 and continues to roll out his collections of uber-soft tees from the companies Los Angeles based headquarters.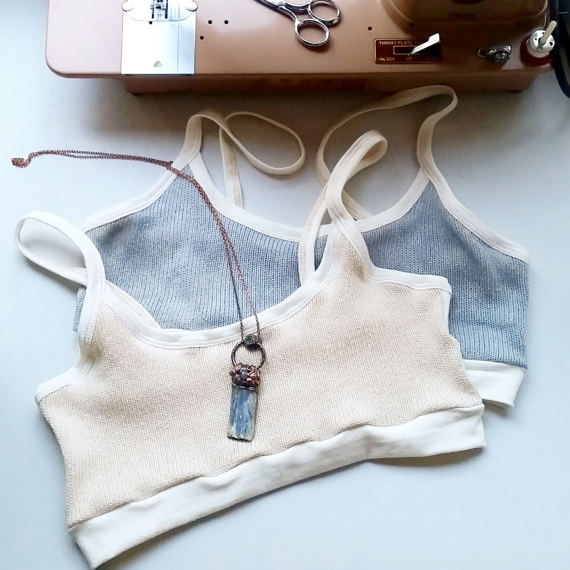 Based out of Idaho this designer has two Etsy shops Speackchichemp and Louderthenwords. The Designer is dedicated to creating one of a kind handcrafted pieces made from organic hemp. I'm totally digging on her soft and amazingly comfortable hemp sweater bralettes.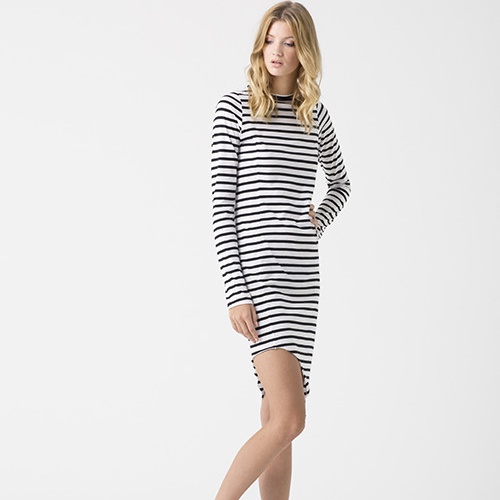 Shift To Nature's products are made from certified organic cotton, hemp, bamboo and other sustainable textiles and that are also made through sustainable and ethical fair work production and business practices. Visit their site and you'll find basics in luxury organic cotton leggings, beautifully made organic cotton t-shirts, dresses in unique luxurious hemp linen, and organic cotton active wear.
Designer Stephanie Trippe started Pretty Birdie in 2007. What started as a hobby designing her own wardrobe by reconstructing vintage items and recycling fabrics, soon turned into a full time business. Stephanie has been recognized nationally for her focus on high-end, ready to wear items made from eco-friendly materials.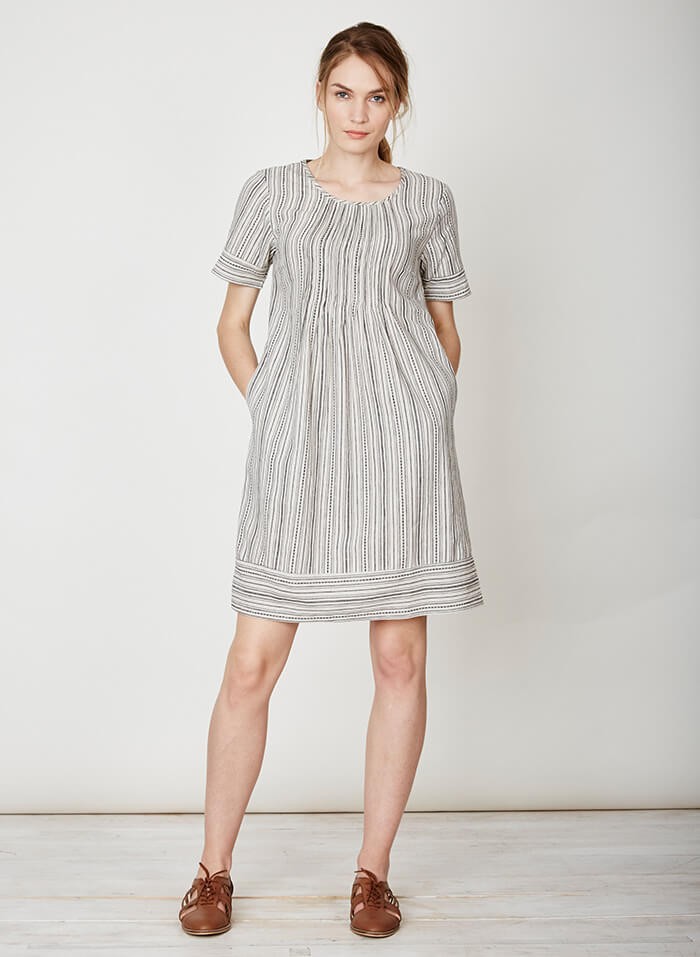 Founded in Australia in 1995, Thought, (formerly Braintree Clothing) launched in the UK in 2002.
Their collections borrow from nature and the world around us. Both in the fabrics they use and their design inspiration. From seed to stitch, every unique piece has been carefully crafted. Always using sustainable, natural fabrics.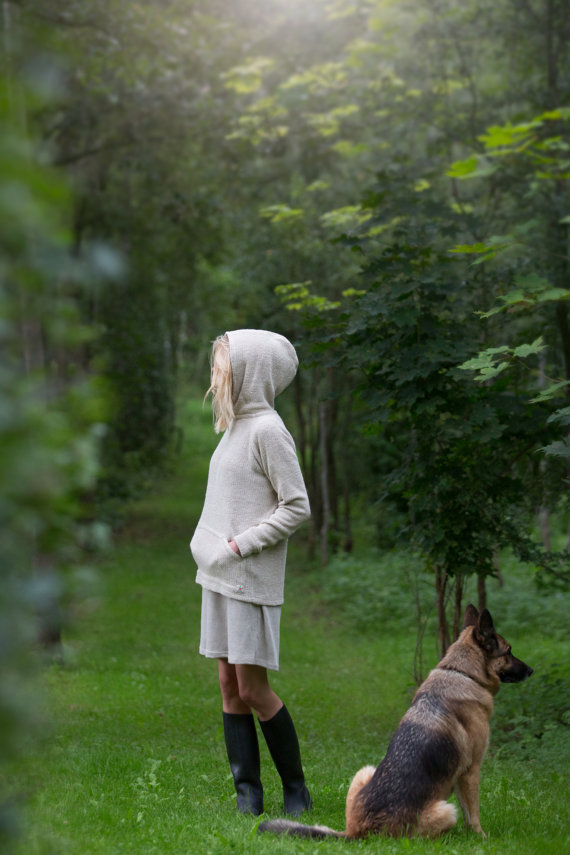 Based out of Polland this small brand launched their Etsy shop just one year ago. The family owned later makes all of their clothes from high quality organic hemp. They offer a small but classic collection of cozy basics for both men and women.
Recreator is a creative co-op producing sustainable hemp fashion in Los Angeles, California. Recreator implements a local production process that includes dyeing, cutting and sewing. The company works with only a handful of experienced artisans to create lasting clothes. All hemp fashion garments are printed and packaged in-house to high quality, ecological standards.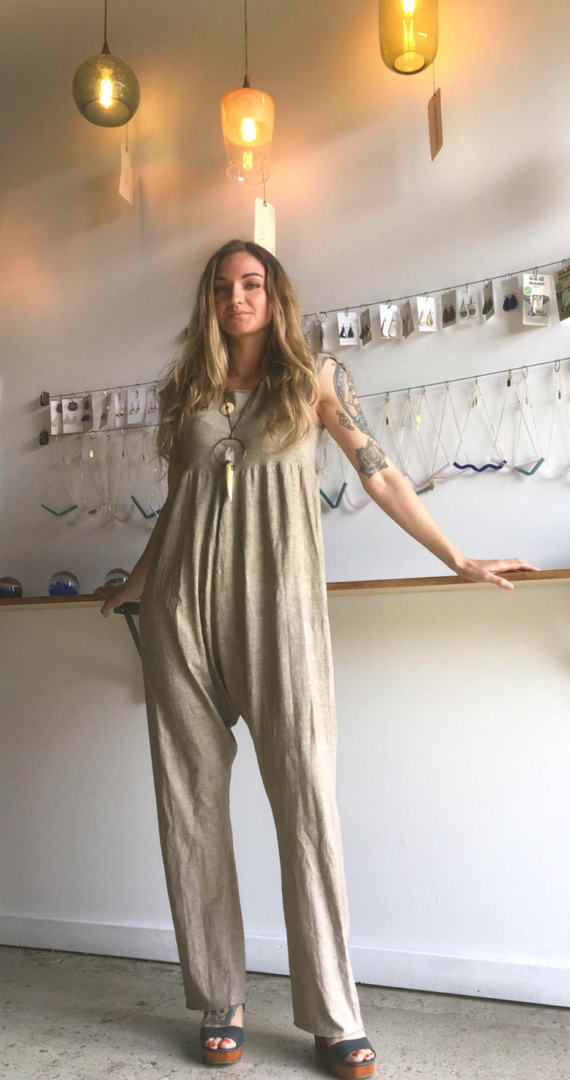 Leanna Echeverri is creating affordable, artistic, and most importantly sustainable. Leanna oversee all aspects of the clothing production from sourcing the organic fabrics to dying the fabrics with low impact plant derivative dyes. Check out her store on Etsy.
Sources
The People's History. N.p., Sept. 2000. Web. 20 June 2017.
Ashoka. "Industrial Hemp: A Win-Win For The Economy And The Environment." Forbes. Forbes Magazine, 09 Aug. 2013. Web. 20 June 2017.
Matthew Horne for the Guardian Professional Network. "Move over Cotton, Hello Hemp." The Guardian. Guardian News and Media, 17 Apr. 2012. Web. 20 June 2017.